mjghfhgf

View from the second floor over green fields at the ocean; Center, Derrynane Bay with Abby Island to the right from a walking path to the water; and at right, The Aunts House facing west with great sunsets and an oceanview.

mjghfhgf

mjghfhgf

We usually rent the house as a two-bedroom —one master with a queen-size bed and sitting area and one with a double bed —though the downstairs bedroom with bunks, usually kept as a family room, can be made available. There are two full baths in the house. The upstairs bath has a full shower. The downstairs bath has a full-sized tub with shower.
mjghfhgf

Master bedroom, and at center, bunkbeds on the second floor next to a full bathroom with shower; at right, the new bathroom on the first floor.

mjghfhgf

mjghfhgf
mjghfhgf

Views of the fully supplied kitchen with fridge, stove and dishwasher; and the cozy living room with an operating fireplace.

mjghfhgf

mjghfhgf

Recent additions from the complete renovation to the house- all new cabinets and counter area in the kitchen, and a new washer and dryer combo in the back hall.
The kitchen table extends and seats four and includes all appliances as well as cookware, diningware, and glassware. We also provide all linens for the beds as well as towels.

Our maturing landscaping includes a number of local species as well as some of the subtropicals that populate much of the area. Some of these plants have been graciously provided by our friend James, who is master gardener at Derrynane House, and many of them came originally from Nora's garden (one of the aunts) when years ago she gave them to him. Some of the plants in our garden include fuchsia, gorse, sheepspit, fairy fingers, agapanthus, cordylines, New Zealand grasses, euonymous, rosemary, heebe, lilies, ivies and roses. Derrynane has a remarkable diversity of wildflowers and other plants.

One of our daughters has begun a flower journal with photos and dried plants. We have tried in our own garden to reflect this diversity while keeping an eye to how Nora might have done it. From the front garden, as well as from the second floor of the house, one can have an excellent view of Derrynane Bay with Abbey Island to the right and Lamb's Head to the left with views of the Beara Peninsula beyond.
back to top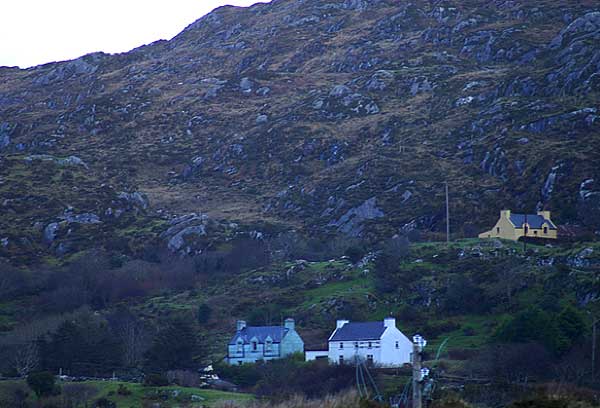 mjghfhgf
Looking back at the house from the path to Derrynane Bay, The Aunts House, at lower left, sits at the foot of a dramatic rocky face and is seconds from Cahdanial's center.
mjghfhgf
Distance to: Restaurants- Blind Piper, 500m; Take-Away, 50m; Shopping- Freddie's, 450m; Pubs- Blind Piper & Freddie's, 450 m; Keatings's, 1 km; Beach, 1 km; Eagle Rock Equestrian Center, 500m.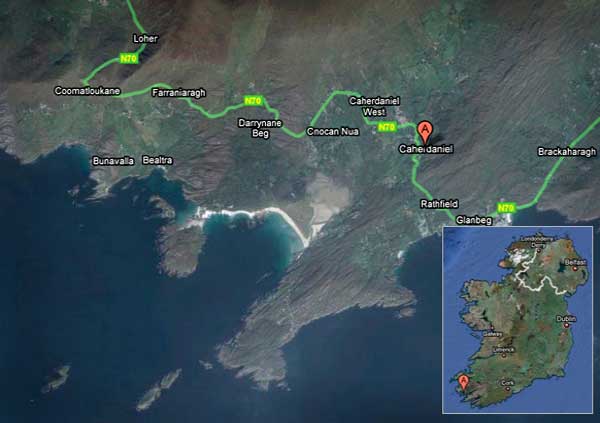 mjghfhgf
Google map image capture of Caherdaniel's location on the Ring of Kerry, Ireland.
mjghfhgf
back to top
The house has been in our family since before 1930. At that time, Bridget "Binder" O'Sullivan, my great-great aunt, bought it from Abby Clifford. In it, she ran a small shop that sold sweets and newspapers. In the 1950s, Aunt Binder passed it to Nora O'Sullivan, later Nora Errity, who ran the shop there until the 1970s. Many local people still remember going up to Nora after Sunday Mass to buy sweets or meeting her husband Pat on the around the village, whereupon he would usually produce some pilfered sweets from his pockets. When my great aunt Helena passed away, my aunt Sheila came from the family farm (which was down near Derrynane Harbor and was sold in the eighties) to live in this house with Nora and Pat. Pat passed away, then I met Nora and Sheila in 1984, three years before Nora passed away and Sheila went to live in Killorglin. The house was then left to my aunts Peggy and Eileen Collins in the states and it remained unoccupied until they passed it along to me in 2003. We were able to save very little of the contents of the original house as dampness and woodworm damage required that we gut the house and begin again. This allowed us to introduce running water, though, so it was not without its upside. Some of the current furniture is from Michele's mother's house in New York. Her Mom, Eileen, was always supportive of our attempt to revitalize this house and we like to think that she would be glad to see her furniture in it.