Tigh Na nAintin is in the village of Caherdaniel, which means "Daniel's Fort," so named for local historical figure Daniel O'Connell, The Liberator, about whom you can read more below. Caherdaniel is in an area known generally as Derrynane. Its name is derived from the Irish Doire Fhionnan, which means "St. Finian's Oaks." The peninsula on which it sits is the Iveragh (Uibh Rathaigh) Peninsula known to many as the Ring of Kerry. Derrynane combines the best of what the Ring of Kerry has to offer being not only on the most beautiful beaches in all of Ireland, but also surrounded by beautiful mountains.
czzvcz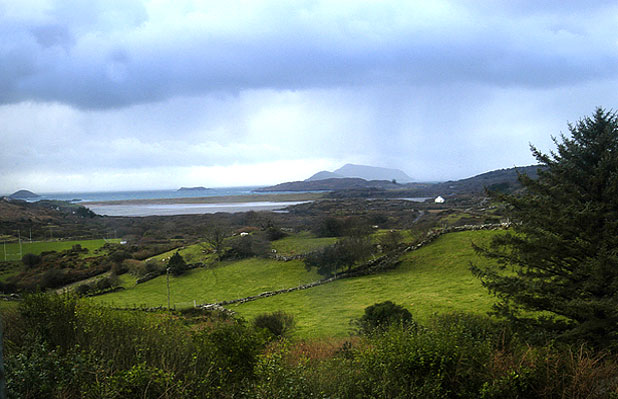 mjghfhgf
View from the second floor of The Aunts House, over green fields at the ocean towards Derrynane Bay. Abby Island is off to the right and less than a mile from the town center of Caherdaniel.
mjghfhgf
Horseback riding: The Eagle Rock Equestrian center operates out of the ruins of Ballycarnahan Castle just around the corner from the house (You can see it from the upstairs windows). They offer both lessons and rides of various lengths but the highlight has to be the beach rides during which riders take the horses across the sand fats at low tide and ride along Derrynane Harbor. One can also see these riders from the house as they make their way across the flats. The staff are excellent with children and even the very young can have a "sit-up." For more: http://www.eaglerockcentre.com/

czzvcz

This is easily my children's favorite activity in Caherdaniel.

mjghfhgf

mjghfhgf

back to top
Surfing & Sailing: While it may seem to some incongruous to think of surfing in Ireland, Kerry has become a center for Europe's burgeoning surf scene and it has become rare not to see surfers on Caherdaniel's beaches in the summer. The casual or even uninitiated can get in on this with surfboard rentals and lessons at Derrynane Sea Sports located nearby just before the town of Sneem. They rent small sailboats for sailing in and around Derrynane harbor and even operate a camp for kids in the summer.
Check out: www.sneem.com/derrynaneseasports.html, or you can contact Helen Wilson at Derrynane Seasports, (087) 908-1208 , derrynaneseasports@eircom.net
mnb

For a more mellow ride, dinghy sailing, wake & knee boarding, and canoeing is also available.

mjghfhgf

mjghfhgf
Golf: Two world-class championship courses are available in Waterville, just a 15-minute drive from the house. The world famous Waterville Golf Links can be found at http://www.watervillegolfclub.ie. Also in Waterville is the newer Skellig Bay course, designed and built by some of the people responsible for Old Head near Kinsale. My father and I have played this course and found it beautiful and hospitable, with stunning views of both the ocean and Lough Currane. More on this course can be found at http://www.skelligbay.com/

czzvcz

Championship level courses with views such as these are a true rarity the world over.

mjghfhgf

mjghfhgf

back to top
Skelling Tours: One of the most striking attractions of the Ring of Kerry is the Skelligs, the jagged volcanic islands rising dramatically out of the sea to the South and West of Caherdaniel. These beautiful islands have been the subjects of numerous nature programs including the popular Sunrise Earth. They were also featured in a story about scuba diving in National Geographic. Skellig Michael features the monastic settlement which was occupied by monks for over 500 years and which is now a national historic site. It also boasts colonies of Puffins and other sea birds. Little Skellig is home to the largest nesting colony of Gannets and is a most amazing sight up close. While the more commercial tours out of other ports will take you around the islands for a distant look, friends of ours have gone with local boat operators and have had a much more personal experience. And, they left right from Bunavalla pier in Caherdaniel. These same operators run Deep Sea fishing tours as well. On very clear days, you can see the Skelligs as you go from Caherdaniel to Waterville.
mjghfhgf
mjghfhgf
Deepsea & fly fishing: There is excellent shore and surf fishing available form Lamb's Head—walkable from the house. Further, Lough Currane in nearby Waterville (15 minutes away) provides fly-fishing so good it used to bring Charlie Chaplin over from Britain to enjoy it. The coastal waters of Ireland are abound with fish so you can expect something in the region of 80 species to aim at, so anything from a blenny of a few grams to a bluefin tuna of over 400 kg can be expected! Fly and boat fishing trips can be arranged through Tadgh O'Sullivan's shop in Waterville.

czzvcz

.

mjghfhgf

mjghfhgf

back to top
Nature & Wildlife: A number of operators offer ocean tours focusing upon ocean wildlife. Recently, my daughters and I were able to enjoy a pod of dolphins working the cove right in Derrynane while flocks of gannets fed on the same school. Also, famously, one tour operator's clients were treated in 2008 to a confirmed blue whale sighting just off our coast. Our part of the Ring of Kerry is also famous for the diversity of species the Gulf Stream brings past its shores. The tide pools which form on the beaches of Derrynane are a great way for kids to experience this diversity. For the more adventuruous, scuba diving is popular not only at the Skelligs (see the National Geographic referenced above) but all around the area and outfitters are available. For more information about the environment and especially the diversity of underwater life in the area see www.vincenthyland.com/kbx2.htm
mnb

mjghfhgf

mjghfhgf
The Beaches: These are just some of the remarkable activities readily available in Derrynane: The Beaches The most breathtaking part of Derrynane has to be its beaches where they have to be seen to be believed. They hold "blue flag' designations, reserved for Ireland's most desirable and most suitable for bathing. In summer they are staffed by lifeguards and have limited facilities. Nature trails abound around the beaches, as does a trail to the Mass Rock—a site where people once gathered in secret to worship.

czzvcz

mjghfhgf

mjghfhgf

back to top
Derrynane House: This is the home of Daniel O'Connell, The Liberator, non-violent leader of Catholic Emancipation and father of numerous civil rights movements. The buildings and grounds were designated a National Historic Landmark. The house includes an interpretive historic museum many of O'Connell's possessions, his family chapel, and the triumphant coach on which he was paraded in Dublin. The grounds include magnificent gardens featuring the subtropical plants made possible by the gulf stream that flows past Caherdaniel. The grounds also lead to the ocean and to the beaches mentioned above. But, if you ask our daughters, they will tell you that the highlight is the Ahamore tearoom which, in the summer, features several flavors of locally made ice cream.
mnb

mjghfhgf

mjghfhgf
Kerry Way: Passing through Caherdaniel is the Kerry Way, an ancient walking route accessible to walkers, hikers, and trekkers alike which follows the old paths and milk roads and includes passage through private properties, respected by the owners of those properties. There are parts of the Kerry Way appropriate to every level of ability and there are also many lovely and unchallenging walking routes right around Derrynane Bay. Walking The Kerry Way is a favorite activity of my father and detailed information about it can be found at the following at http://www.kerryway.net/

czzvcz

mjghfhgf

mjghfhgf

back to top
The Village: One thing that consistently surprises new visitors to Caherdaniel is the quality of the nightlife in so small a village. Year 'round the village boasts two excellent pubs. Both are about 400 meters from the house. One, The Blind Piper is also a delicious restaurant in which lunch and dinner are available. Our favorites include the poached salmon with lobster cream sauce, any soup of the day and any roast of the day. The second, Freddie's has been in Freddie's family for over 100 years and is attached to the village shop where you can get groceries and virtually anything you need. During the summer months, a takeaway opens in the space next to Freddie's and Keating's pub opens near the beaches. Up the road toward Sneem is O'Carroll's Cove Beach Bar that sits directly on the sand. The Scarrif Inn sits atop the mountain at Beenarourke with the most commanding view of the entire area to be found anywhere.

It says it has "the best view in Ireland "and it just might. We always eat there at least once per trip. The Derrynane Hotel, just up the road to Sneem, also has a fine restaurant and pub with a magnificent view of the Bay. The village Catholic church, St. Crohane's is located also about 500 meters from the house. There is one mass on Sunday's here, one in Castlecove and another in Loher—about half way to Waterville. Every Friday there is a village market in the center of town where people sell things like smoked fish and cheese, vegetables, black and white photos of the area, arts and crafts, etc. This is also a big hit with the kids. Also, a fishmonger visits the village once per week.

mnb

mnb
Top: The N70 heading in to Caherdanial town center announcing the truely excellent Blind Piper restaurant and pub; signage above.

mjghfhgf

mjghfhgf